Communicating with Love Ones in the Afterlife

Source: Victor Zammit's Friday Afterlife Report 5 May 2017
After Death Contacts
A huge number of people have seen or heard a person or an animal after they have died. Very often people will tell you that someone they loved appeared at the foot of their bed and told them that they had just died. In many such cases the death was unexpected and the person had died just before they were seen.
HISTORY AND INCIDENCE
These after death contacts have been studied scientifically since 1882 when a study was begun in England. Altogether 32,000 cases were recorded, 17,000 in English. It was published in Volume X of the Society for Psychical Research Proceedings (1894).
Further studies were carried out by the American Society for Psychical Research and by the French researcher Camille Flammarion who compiled thousands of cases in his books The Unknown (1900) and Death and Its Mystery (1925).
All the researchers found that many people in every country experienced after death communications.
In 1973 a University of Chicago sociologist asked a sample of 1,467 Americans if they had ever felt they had contact with someone who had died. Twenty seven per cent answered that they had (Greenley 1975). A similar survey in Iceland (Haraldsson et al 1976) found that thirty-one per cent said yes.
Dr. W.D. Rees, a British physician found that of a sample of widows in Wales, forty seven per cent had experiences—often repeatedly over a number of years—that convinced them that their dead husbands had been in contact with them (Rees 1971: 37-41). An earlier British experiment by Dr P. Marris (1958) had found a figure of fifty per cent.
Dr. Melvin Morse, a pediatrician who has done many studies of death and dying, claims that they are so common that it is rare for someone to lose a child and not see them again in a death-related vision (Morse 1994: 135).
TYPES OF AFTER DEATH COMMUNICATION
Recent research shows that people who die make their presence know in a number of ways. These include:
(1) Sensing their presence
(2) Hearing their voice
(3) Feeling their touch
(4) Smelling them
(5) Seeing them as if they were real
(6) Seeing a flat vision of them like a photo
(7) Experiencing one of these while half-asleep
(8) Having a visit in a dream- but the dream is unusually vivid and you do not forget it like a normal dream
(9) Having an out-of-body experience and meeting them
(10) Receiving a telephone call from the person who died (two-way conversations have actually been reported.)
(11) Experiencing electrical appliances such as lights, TVs, and radios going on and off
(12) Receiving a symbolic message, sign, meaningful coincidence, or synchronicity.
********************************************************************************
Researchers claim that humans have souls which can live on after death
The idea that human consciousness lives on after death has been put forward by a number of well-respected scientists
SCIENTISTS have claimed that death may not be as final as we once feared – and that humans have souls that can leave the body after their hosts kick the bucket.
It may sound like a supernatural myth, but the idea that human consciousness lives on after death has been put forward by a number of well-respected scientists.
 British physicist Sir Roger Penrose explains how the human conscious lives on after deathAnd the British scientist at the forefront of the eerie theory claims that humans have souls which don't die along with the body.
We many not know exactly what consciousness is, but physicist Sir Roger Penrose believes that it's just a packet of information stored at a quantum – or sub-atomic – level.
Sensationally, he claims to have found evidence that this information, which is stored in microtubules within human cells, leaves the body after a person dies.
The researchers argue that humans have souls which leave the body upon death, and can live on without it forever
Sir Roger has argued that when a person dies temporarily, this quantum information is released into the universe, only to return to the body's cells if the host is brought back to life.
He argues that this explains why people can have near-death experiences, and believes that this quantum information amounts to a soul leaving the body.
The physics expert said: "If the patient dies, it's possible that this quantum information can exist outside the body, perhaps indefinitely, as a soul."
Penrose claims to have found evidence that human consciousness can live on after a person dies
And Sir Roger is not alone in believing this, since his theory is backed by researchers at the renowned Max Planck Institute for Physics in Munich.
Experts there argue that our physical universe is just a perception, and that once our bodies die there is an infinite life beyond.
************************************************************
Near-Death Experience Stories
A Profoundly Inspiring Near-Death Experience Story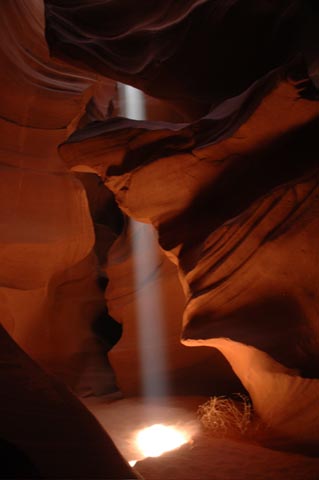 Mellen-Thomas Benedict is an artist who survived a near-death experience (NDE) in 1982. He was dead for over an hour and a half. During that time, he rose up out of his body and went into the light. Curious about the universe, he was taken far into the remote depths of existence, and even beyond, into the energetic void of nothingness behind the Big Bang.
Eminent near-death experience researcher Dr. Kenneth Ring has said, "His near-death experience story is one of the most remarkable I have encountered in my extensive research on near-death experiences."
Note: For a rich collection of profound near-death experience stories and near-death experience resources, click here.
Near-Death Experience Story of Mellen-Thomas Benedict
In 1982, I died from terminal cancer. My condition was non-operable. I chose not to have chemotherapy. I was given six to eight months to live. Before this time, I had become increasingly despondent over the nuclear crisis, the ecology crisis, and so forth. I came to believe that nature had made a mistake – that we were probably a cancerous organism on the planet. And that is what eventually killed me.
Before my near-death experience, I tried all sorts of alternative healing methods. None helped. So I determined that this was between me and God. I had never really considered God. Neither was I into any kind of spirituality. But my approaching death sent me on a quest for more information about spirituality and alternative healing. I read various religions and philosophies. They gave hope that there was something on the other side.
I had no medical insurance, so my life savings went overnight on tests. Unwilling to drag my family into this, I determined to handle this myself. I ended up in hospice care and was blessed with an angel for my hospice caretaker, whom I will call "Anne." She stayed with me through all that was to follow.
Into the Light
I woke up about 4:30 am and I knew that this was it. I was going to die. I called a few friends and said good-bye. I woke up Anne and made her promise that my dead body would remain undisturbed for six hours, since I had read that all kinds of interesting things happen when you die. I went back to sleep. The next thing I remember, I was fully aware and standing up. Yet my body was lying in the bed. I seemed to be surrounded by darkness, yet I could see every room in the house, and the roof, and even under the house.
A Light shone. I turned toward it, and was aware of its similarity to what others have described in near-death experiences. It was magnificent and tangible, alluring. I wanted to go towards that Light like I might want to go into my ideal mother's or father's arms. As I moved towards the Light, I knew that if I went into the Light, I would be dead. So I said/felt, "Please wait. I would like to talk to you before I go."
The entire experience halted. I discovered that I was in control of the experience. My request was honored. I had conversations with the Light. That's the best way I can describe it. The Light changed into different figures, like Jesus, Buddha, Krishna, archetypal images and signs. I asked in a kind of telepathy, "What is going on here?"
The information transmitted was that our beliefs shape the kind of feedback we receive. If you are a Buddhist or Catholic or Fundamentalist, you get a feedback loop of your own images. I became aware of a Higher Self matrix, a conduit to the Source. We all have a Higher Self, or an oversoul part of our being, a conduit. All Higher Selves are connected as one being. All humans are connected as one being.
It was the most beautiful thing I have ever seen. It was like all the love you've ever wanted, and it was the kind of love that cures, heals, regenerates. I was ready to go at that time. I said "I am ready, take me." Then the Light turned into the most beautiful thing that I have ever seen: a mandala of human souls on this planet. I saw that we are the most beautiful creations – elegant, exotic … everything.
I just cannot say enough about how it changed my opinion of human beings in an instant. I said/thought/felt, "Oh, God, I didn't realize." I was astonished to find that there was no evil in any soul. People may do terrible things out of ignorance and lack, but no soul is evil. "What all people seek – what sustains them – is love," the Light told me. "What distorts people is a lack of love."
The revelations went on and on. I asked, "Does this mean that Humankind will be saved?" Like a trumpet blast with a shower of spiraling lights, the Light "spoke," saying, "You save, redeem and heal yourself. You always have and always will. You were created with the power to do so from before the beginning of the world." In that instant I realized that we have already been saved.
I thanked the Light of God with all my heart. The best thing I could come up with was: "Oh dear God, dear Universe, dear Great Self, I love my Life." The Light seemed to breathe me in even more deeply, absorbing me. I entered into another realm more profound than the last, and was aware of an enormous stream of Light, vast and full, deep. I asked what it was. The Light answered, "This is the River of Life. Drink of this manna water to your heart's content." I drank deeply, in ecstasy.
The Void of Nothingness
Suddenly I seemed to be rocketing away from the planet on this stream of Life. I saw the earth fly away. The solar system whizzed by and disappeared. I flew through the center of the galaxy, absorbing more knowledge as I went. I learned that this galaxy – and the entire Universe – is bursting with many different varieties of life. I saw many worlds. We are not alone in this Universe. It seemed as if all the creations in the Universe soared past me and vanished in a speck of Light.
Then a second Light appeared. As I passed into the second Light, I could perceive forever, beyond Infinity. I was in the Void, pre-Creation, the beginning of time, the first Word or vibration. I rested in the Eye of Creation and it seemed that I touched the Face of God. It was not a religious feeling. I was simply at One with Absolute Life and Consciousness.
I rode the stream directly into the center of the Light. I felt embraced by the Light as it took me in with its breath again. And the truth was obvious that there is no death; that nothing is born and nothing dies; that we are immortal beings, part of a natural living system that recycles itself endlessly.
It would take me years to assimilate the Void experience. It was less than nothing, yet greater than anything. Creation is God exploring God's Self through every way imaginable. Through every piece of hair on your head, through every leaf on every tree, through every atom. God is exploring God's Self. I saw everything as the Self of all. God is here. That's what it is all about. Everything is made of light; everything is alive.
The Light of Love
I was never told that I had to come back. I just knew that I would. It was only natural, from what I had seen. As I began my return to the life cycle, it never crossed my mind, nor was I told, that I would return to the same body. It did not matter. I had complete trust in the Light and the Life process.
As the stream merged with the great Light, I asked never to forget the revelations and the feelings of what I had learned on the other side. I thought of myself as a human again and I was happy to be that. From what I have seen, I would be happy to be an atom in this universe. An atom. So to be the human part of God … this is the most fantastic blessing. It is a blessing beyond our wildest imagination of what a blessing can be.
For each and every one of us to be the human part of this experience is awesome, and magnificent.Each and every one of us, no matter where we are, screwed up or not, is a blessing to the planet, right where we are. So I went through the reincarnation process expecting to be a baby somewhere.
But I reincarnated back into this body. I was so surprised when I opened my eyes, to be back in this body, back in my room with someone looking over me, crying her eyes out. It was Anne, my hospice caretaker. She had found me dead thirty minutes before. We do not know how long I was dead, only that she found me thirty minutes before. She had honored my wish to have my newly-dead body left alone. She can verify that I really was dead.
It was not a near-death experience. I believe I probably experienced death itself for at least an hour and a half. When I later awakened and saw the light outside, confused, I tried to get up to go to it, but I fell out of the bed. She heard a loud "clunk", ran in, and found me on the floor. When I recovered, I was surprised and awed about what had happened. I had no memory at first of the experience. I kept slipping out of this world and kept asking, "Am I alive?" This world seemed more like a dream than that one.
Within three days, I was feeling normal again, clearer, yet different than ever before. My memories of the journey came back later. But from my return I could find nothing wrong with any human being I had ever seen. Previous to my death I was judgmental, believing that people were really screwed up.
About three months later a friend said I should get tested for the cancer. So I got the scans and so forth. I felt healthy. I still remember the doctor at the clinic looking at the "before" and "after" scans. He said, "I can find no sign of cancer now." "A miracle?" I asked. "No," he answered. "These things happen … spontaneous remission." He seemed unimpressed. But I was impressed. I knew it was a miracle.
Lessons Learned
I asked God: "What is the best religion on the planet? Which one is right?" God said with great love: "It doesn't matter." What an incredible grace. It does not matter what religion we are. Religions come and they go. They change. Buddhism has not been here forever, Catholicism has not been here forever, and they are all about to become more enlightened. More light is coming into all systems now. Many will resist and fight about it, one religion against the next, believing that only they are right.
When God said, "It doesn't matter," I understood that it is for us to care about, because we are the caring beings. The Source does not care if you are Protestant, Buddhist, or Jew. Each is a reflection, a facet of the whole. I wish that all religions would realize it and let each other be. It is not the end of separate religions, but live and let live. Each has a different view, and it all adds up to the big picture.
I went over to the other side with a lot of fears about toxic waste, nuclear missiles, the population explosion, the rain forest. I came back loving every single problem. I love nuclear waste. I love the mushroom cloud; this is the holiest mandala that we have manifested to date, as an archetype. More than any religion or philosophy on Earth, that terrible, wonderful cloud brought us together all of a sudden, to a new level of consciousness.
Knowing that maybe we can blow up the planet fifty times, or 500 times, we finally realize that maybe we are all here together now. For a period, they had to keep setting off more bombs to get it into us. Then we started saying, "we do not need this any more." Now we are actually in a safer world than we have ever been in, and it is going to get even safer.
So I came back loving toxic waste, because it brought us together. These things are so big. Clearing of the rain forest will slow down, and in fifty years there will be more trees on the planet than in a long time. If you are into ecology, go for it; you are that part of the system that is becoming aware. Go for it with all your might, but do not be depressed or disheartened. Earth is in the process of domesticating itself, and we are cells on that Body. Population increase is getting very close to the optimal range of energy to cause a shift in consciousness. That shift in consciousness will change politics, money, energy, and more.
The Great Mystery of life has little to do with intelligence. The Universe is not an intellectual process. The intellect is helpful; but our hearts are the wiser part of ourselves. Since my return I have experienced the Light spontaneously. I have learned how to get to that space almost any time in my meditation. You can also do this. You don't have to die first. You are wired for it already. The body is the most magnificent Light being there is. The body is a universe of incredible Light. We don't need to commune with God; God is already communing with us in every moment!
Note: The above text is a concise, slightly edited summary. For the full text of this inspiring near-death experience story, click here. For Mellen-Thomas Benedict's personal website, see www.mellen-thomas.com. For other amazing near-death experience stories, see Anita's highly inspiring near-death story at this link. For a rich and inspiring online lesson with other incredible near-death experience stories and more, click here.

For more inspiration:
For a rich collection of excellent resources on near-death experience stories, click here.
An awesome collection of a variety of inspiring resources is available here.
For some of the most inspiring short video clips on the Internet, click here.
Read concise summaries of highly inspiring major media reports available here.
Explore several dynamic online courses which powerfully expand your horizons.
Share this inspiring near-death experience story with your friends and bookmark this article on key news websites using the "Share" icon on this page.
We need your support. Please help our work to grow and thrive by donating at this link.
**************
From ANP…….
Scientists discover 'near death' evidence
For centuries, those brought back from death's door have claimed they had a glimpse of the afterlife.
They speak of seeing a tunnel, a light, dead relatives, or their own lives flashing before their eyes.
Some even recall floating out of their body and watching doctors struggling to revive them.
Medical and scientific experts have maintained these 'near-death experiences' do not exist and are simply a normal reaction to intolerable stress.
Yet now university researchers claim to have produced compelling scientific evidence that they really do happen.
Others say this may show the mind continues to exist after death.
Near-death experiences (NDEs) occur when someone is clinically dead, their heart has stopped beating and their brain no longer functioning.
The study, one of the most extensive scientific investigations into the phenomenon, shows that almost one in five heart attack patients who were brought back to life had had an NDE.
The researchers say known medical explanations cannot account for these out-of-body sensations.
Dr Pim van Lommel and colleagues from the Rijnstate Hospital in Arnhem, Holland, investigated the experiences of 344 heart patients resuscitated after cardiac arrest.
All had been clinically dead at some point during their treatment, says a report in The Lancet today.
Sixty-two patients reported NDE, of whom 41 described a deep experience during a special state of consciousness. These included outofbody experiences, pleasant feelings, and seeing a tunnel, a light, deceased relatives, or a life review.
The researchers said: 'Our results show that medical factors cannot account for occurrence of NDE; although all patients had been clinically dead, most did not have NDE.
'If purely physiological factors caused NDE, most of our patients should have had this experience.'
Dr Sam Parnia, a clinical research fellow at Southampton University who made similar findings earlier this year, called the latest report 'very exciting'.
'This is a very significant study because it takes us one step closer to understanding the human condition at the end of life which has been ignored by the scientific community until recently,' he added.
The Dutch researchers also found that NDEs were more common among people under 60. Deeper NDE experiences were more common among women.
The experience made people believe strongly in an afterlife and removed their fear of death. Dr Parnia, who hopes to carry out further research in Britain if he can get funding, said the Dutch study shows some people have remarkably similar impressions of what happens when they are clinically dead.
'In the past it has been assumed that consciousness comes to an end when the brain stops functioning, but there may be some kind of independent existence,' he said.
'It is also significant that people who had an out-of-body experience had a lessened fear of death as a result. Previously it has been suggested that just being close to death makes people feel that way, but it was not found among those who did not have NDE.'
He added: 'The main significance of the NDE lies in the understanding of the relationship between mind and brain, which has remained a topic of debate in contemporary philosophy, psychology and neuroscience.
'Very little is known scientifically about the subjective experience of dying, the nature of the human mind and its outcome during " clinical death". The findings need to be investigated with a much larger study. If the results are replicated, it would imply that the mind may continue to exist after the death of the body, or an afterlife.'
But chartered psychologist Christopher French, from Goldsmiths College, London, said there were alternative explanations for NDEs.
'Some people may have developed a false memory based on something called imaginative inflation, where the individual actually takes on board the details of an experience as if it did happen.'
By Jenny Hope
(Source:  dailymail.co.uk; October 29, 2015; http://tinyurl.com/6eaue7g)
**************************************
Quantum Physics Proves that there IS an Afterlife, Claims Scientist
http://www.dailymail.co.uk/sciencetech/article-2503370/Quantum-physics-proves-IS-afterlife-claims-scientist.html
By Victoria Woollaston
Robert Lanza claims the theory of Biocentrism says death is an illusion. He said life creates the universe, and not the other way round
This means space and time don't exist in the linear fashion we think it does. He uses the famous double-split experiment to illustrate his point
And if space and time aren't linear, then death can't exist in 'any real sense' either
 Most scientists would probably say that the concept of an afterlife is either nonsense, or at the very least unprovable. Yet one expert claims he has evidence to confirm an existence beyond the grave – and it lies in quantum physics.
Professor Robert Lanza claims the theory of biocentrism teaches that death as we know it is an illusion created by our consciousness.
Professor Robert Lanza claims the theory of biocentrism teaches death as we know it is an illusion. He believes our consciousness creates the universe, and not the other way round, and once we accept that space and time are 'tools of our minds', death can't exist in 'any real sense' either
Professor Robert Lanza's theory is explained in his book Biocentrism: How Life and Consciousness are the Keys to Understanding the True Nature of the Universe
'We think life is just the activity of carbon and an admixture of molecules – we live a while and then rot into the ground,' said the scientist on his website.    Lanza, from Wake Forest University School of Medicine in North Carolina, continued that as humans we believe in death because 'we've been taught we die', or more specifically, our consciousness associates life with bodies and we know that bodies die.
His theory of biocentrism, however, explains that death may not be as terminal as we think it is.
Biocentrism is classed as the theory of everything and comes from the Greek for 'life centre'. It is the belief that life and biology are central to reality and that life creates the universe, not the other way round. This suggests a person's consciousness determines the shape and size of objects in the universe.
Lanza uses the example of the way we perceive the world around us. A person sees a blue sky, and is told that the colour they are seeing is blue, but the cells in a person's brain could be changed to make the sky look green or red.
By looking at the universe from a biocentric's point of view, this also means space and time don't behave in the hard and fast ways our consciousness tell us it does.
In summary, space and time are 'simply tools of our mind.'   Once this theory about space and time being mental constructs is accepted, it means death and the idea of immortality exist in a world without spatial or linear boundaries. Theoretical physicists believe that there is infinite number of universes with different variations of people, and situations taking place, simultaneously.
Lanza added that everything which can possibly happen is occurring at some point across these multiverses and this means death can't exist in 'any real sense' either.   Lanza, instead, said that when we die our life becomes a 'perennial flower that returns to bloom in the multiverse.'
'Bottom line: What you see could not be present without your consciousness,' explained Lanza. 'Our consciousness makes sense of the world.'
By looking at the universe from a biocentric's point of view, this also means space and time don't behave in the hard and fast ways our consciousness tell us it does. In summary, space and time are 'simply tools of our mind.'
Once this theory about space and time being mental constructs is accepted, it means death and the idea of immortality exist in a world without spatial or linear boundaries.
Lanza cites the double-slit test, pictured, to backup his claims. When scientists watch a particle pass through two slits, the particle goes through one slit or the other. If a person doesn't watch it, it acts like a wave and can go through both slits simultaneously. This means its behaviour changes based on a person's perception
HOW THE DOUBLE-SLIT EXPERIMENT SUPPORTS LANZA'S THEORY
In the experiment, when scientists watch a particle pass through two slits in a barrier, the particle behaves like a bullet and goes through one slit or the other. Yet if a person doesn't watch the particle, it acts like a wave.   This means it can go through both slits at the same time.
This demonstrates that matter and energy can display characteristics of both waves and particles, and that the behaviour of the particle changes based on a person's perception and consciousness.
Lanza added that everything which can possibly happen is occurring at some point across these multiverses and this means death can't exist in 'any real sense' either.    Lanza, instead, said that when we die our life becomes a 'perennial flower that returns to bloom in the multiverse.'
He continued: 'Life is an adventure that transcends our ordinary linear way of thinking. When we die, we do so not in the random billiard-ball-matrix but in the inescapable-life-matrix.'
Lanza's full theory is explained in his book Biocentrism: How Life and Consciousness are the Keys to Understanding the True Nature of the Universe.
Read more:  http://www.dailymail.co.uk/sciencetech/article-2503370/Quantum-physics-proves-IS-afterlife-claims-scientist.html#ixzz2kqiu68UV
The BOOK:   FROM OTHER SCIENTISTS –
"It's a masterpiece – truly a magnificent essay. Bob Lanza is to be congratulated for a fresh and highly erudite look at the question of how perception and consciousness shape reality and common experience. His monograph combines a deep understanding and broad insight into 20th century physics and modern biological science; in so doing, he forces a reappraisal of this hoary epistemological dilemma. Not all will agree with the proposition he advances, but most will find his writing eminently readable and his arguments both convincing and challenging. Bravo" .
 – Michael Lysaght, Professor of Medical Science and Engineering, Brown University and Director of Brown's Center for Biomedical Engineering
"As an astrophysicist, I focus my attention on objects that are very large and very far away, ignoring the whole issue of consciousness as a critical part of the Universe. Reading Robert Lanza's work is a wake-up call to all of us that even on the grandest scale we still depend on our minds to experience reality. Issues of "quantum weirdness" do have a place in the macroscopic world. Time and space do depend on perception. We can go about our daily lives and continue to study the physical Universe as if it exists as an objective reality (because the probabilities allow that degree of confidence), but we do so with a better awareness of an underlying biological component, thanks to Dr. Lanza."
 – David Thompson, Astrophysicist, NASA's Goddard Space Flight Center.
Leave a Reply