Landslides on dwarf planet Ceres
A recent study shows that landslides are common on the dwarf planet Ceres and reinforces the idea that Ceres has a lot of water ice.
Ceres was once labeled as an asteroid, until being re-classified as a dwarf planet by the International Astronomical Union in 2006. It's largest body orbiting our sun in the asteroid belt between Mars and Jupiter. Where we once saw Ceres only as a point of light (the word asteroid means starlike), we now see it as a little world. That's thanks to the Dawn spacecraft, which has been orbiting Ceres since 2015. A new study based on Dawn data – published April 17, 2017 in the peer-reviewed journal Nature Geoscience – provides images and insights on landslides on this world. Study authors say their work provides yet more evidence that Ceres has a significant amount of water ice. They've also identified three types of Ceres landslides, described in the three landslide picture captions on this page.
Britney Schmidt of the Georgia Institute of Technology in Atlanta led the new study. She said in a statement:
Images from Dawn show that landslides, many of which are similar to those seen on Earth, are very common on Ceres, and further the case that Ceres has a lot of water ice involved in its structure …

The locations of these different types of features reinforces the idea that the shallow subsurface of Ceres is a mixture of ice and rock, and that ice is most plentiful near the surface at the poles.
Scientists expressed surprise at just how many landslides have occurred on Ceres in general. About 20 to 30 percent of craters greater than 6 miles (10 km) wide have some type of landslide associated with them. NASA said:
Such widespread ground ice features, which formed from of a mixture of rock and ice, had only been observed before on Earth and Mars.
Based on the shape and distribution of landslides on Ceres, study authors estimate that the ice in the upper few tens of meters of Ceres may range from 10 percent to 50 percent by volume. Carol Raymond, who is deputy principal investigator for the Dawn mission, commented:
These kinds of flows are not seen on bodies such as Vesta [now the largest asteroid, since Ceres was promoted to dwarf planet status], which Dawn studied from 2011 to 2012, because [Vesta's] regolith is devoid of water.
So Dawn has shown us that, although Ceres and Vesta both orbit in the same approximate realm of our solar system, they're very different worlds. The Dawn spacecraft is the only earthly spacecraft ever to orbit two destinations beyond Earth, by the way. It has accomplished its primary missions at both Vesta and Ceres, and it's still orbiting Ceres, now in an extended mission phase.
Recently, the craft has been using its onboard ion engine to swivel the plane of its orbit around Ceres. It's getting ready to look at Ceres from a new orbit and orientation. It's also interesting to note that – around now, late April 2017 – the spacecraft is directly between the sun and the mysterious Occator Crater, home of the most famous of the Ceres bright spots. In this geometry, Dawn might be able to deliver new insights about the bright spots. The most famous ones, in Occator Crater, recently acquired their own names.
Since going into orbit around Ceres in March, 2015, Dawn has learned that Ceres has many bright spots. They're now thought to be salt deposits, possibly left behind as ice vaporised from Ceres surface by sublimation – a process often seen in icy comets.
In fact, what Dawn has learned about Ceres helps blur the line between asteroids and comets. For example, Comet 67P/Churyumov–Gerasimenko – which has recently been scrutinized by the Rosetta spacecraft – also has landslides.
Ocean worlds beyond Earth
Earth is an ocean planet. Astronomers are realizing that ocean worlds are all around us in space. New ScienceCast video from NASA.
*************************************************************************************************************
Could this be the elusive Planet X – Nibiru?  (B.E.)
ANU astronomers launch public search of the southern skies for elusive 'Planet Nine'
Source ABC News
Australian scientists searching the southern skies for a large planet, predicted to be hiding on the edge of our solar system, have released thousands of images for the public to trawl through to pinpoint its location.
Calculations suggest there may be an elusive "Planet Nine" orbiting the Sun far beyond Neptune and Pluto, though it has never been eyeballed by astronomers.
Now, scientists at the Australian National University (ANU) are publicly releasing images taken by the SkyMapper telescope at the university's Siding Spring Observatory in regional NSW, in the hopes that Planet Nine makes an appearance.
"[The telescope has] been doing a digital map of the southern skies, but because it's produced hundreds of thousands of images we're inviting the public, everyone, to access our images and try and find this planet," ANU Astronomer Brad Tucker said.
The project is similar to a public search launched by NASA called Backyard Worlds.
The hypothesised Planet Nine remains mysterious, but is projected to be roughly ten times the size of Earth and 800 times further away from the Sun.
Dr Tucker said scientists had deduced the planet existed after an analysis of Pluto's orbit, which may have been impacted by the gravity of another planet.
"A calculation, about a year ago, showed that in order to explain Pluto's orbit, if you put this sized planet in this rough position, it makes perfect sense," he said.
"Neptune was actually predicted the exact same way … there's a lot of historical reasons to believe that this sort of thing is actually quite right."
'Spot the difference' to discover planet
A website hosting the images presents participants with images of objects moving through space over time, in the hopes of finding movements that match Planet Nine's proposed characteristics.
Dr Tucker said using the website was simply "spot the difference".
"What you should see is a red, blue, and green dot, so an object that has moved across the image over time," he said.
"If you see it, you say yes and then you click the position, then that will do some calculations and figure out if it's on a good orbit, if it could be this planet.
"[The website will] send it to us, and we will follow it with our telescopes at Siding Spring and all around the world."
While the dataset is massive, and will contain thousands of asteroids and other celestial bodies, scientists hope to churn through high probability areas in a week and the complete the dataset over several months.
"The planet could exist in one probable area, and that area we hope to get through in a week," Dr Tucker said.
"It doesn't just end in a week or two, it's going to be a couple of months, but the bulk of it we hope to plough through really quick."
****************************************************************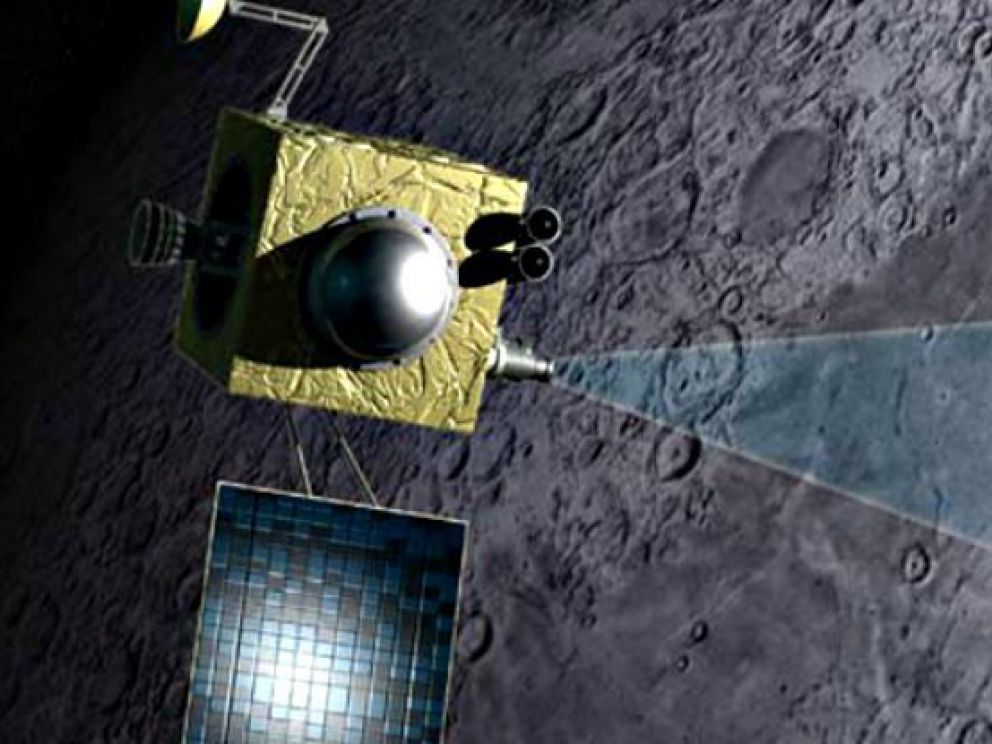 NASA's found a lost spacecraft orbiting our moon
An Indian spacecraft that lost contact with Earth eight years ago has been rediscovered orbiting the Moon.
NASA's Earth-based radars have detected the signal of the Indian Space Research Organisation's (ISRO) tiny Chandrayaan-1 spacecraft, which left Earth for the Moon's orbit back in 2008, and was last heard from in August 2009.
You'd think it wouldn't be that hard to find a spacecraft that we know is in orbit around our closest satellite, but it's a lot trickier than it sounds.
It's tough enough to accurately find space debris in Earth's own orbit, and thanks to the lunar glare, optical telescopes are out when it comes to looking for lost objects around the Moon.
Not to mention that Chandrayaan-1 is only around 1.5 metres (5 feet) on each side, so from Earth it would be less than a tiny speck around the Moon.
There's also the fact that our Moon is covered in regions called mascons, or mass concentrations, which have higher-than-average gravitational pull and have been known to tug a spacecraft out of orbit over time – sometimes even causing them to crash into the lunar surface.
So despite the fact that we last heard from Chandrayaan-1 while it was circling the Moon, after eight years of radio silence, there were no guarantees it was still there, and the orbiter had been classified as 'lost'.
But NASA has used a new radar technique to discover the missing spacecraft, as well as showing that it could accurately pinpoint the location of NASA's still-active Lunar Reconnaissance Orbiter (LRO).
"Finding LRO was relatively easy, as we were working with the mission's navigators and had precise orbit data where it was located," said Marina Brozovic, a radar scientist at NASA's Jet Propulsion Laboratory (JPL).
"Finding India's Chandrayaan-1 required a bit more detective work because the last contact with the spacecraft was in August of 2009."
To figure it out, the team first came up with the best predictions of where Chandrayaan-1 might have ended up. According to where it was last heard from, their best guess was that it would be some 200 km (124 miles) above the Moon, in a polar orbit.
Based on that estimate, they then beamed microwaves towards the Moon's north pole, around 380,000 km (237,000 miles) away, using a huge antenna at NASA's Goldstone Deep Space Communications Complex in California, and waited for them to bounce back.
The idea was that if any small spacecraft crossed the paths of these microwaves, they'd be able to detect them – similar to the way we can map the bottom of Earth's oceans with radars.
And that's exactly what happened – the team detected a small spacecraft crossing the path of the microwaves twice in around four hours, the same orbital period that Chandrayaan-1 was predicted to have.
They continued to listen in to the radars bouncing back from the spacecraft in order to get a better idea of its new orbit and position. Impressively, they found it had barely shifted course in the almost eight years it had been adrift by itself.
At the mouth of a Mars mega-flood
New images from ESA's Mars Express spacecraft show an ancient outflow region, where fierce floodwaters once raged.
ESA released the beautiful image above on March 2, 2017. It's a capture from its Mars Express spacecraft of the mouth of one of the largest outflow channel networks on Mars. You can see the channel extending to the right from the large crater on the left. The channel system is called Kasei Valles, and it extends across Mars some 2,000 miles (3,000 km) from its source. ESA said:
A combination of volcanism, tectonics, collapse and subsidence in the Tharsis region led to several massive groundwater releases from Echus Chasma, which subsequently flooded the Kasei Valles region around 3.6–3.4 billion years ago. These ancient mega-floods have left their mark on the features seen today.
Sections of Kasei Valles had already been imaged by Mars Express during its 14 years at the Red Planet, but, ESA said, this new image, taken on May 25, 2016, captures a portion right at its mouth.
*********************************
What would life be like near TRAPPIST-1?
The newly discovered exoplanets orbiting this nearby star are likely to be bathed in high-energy ultraviolet radiation. What would life be like there? An expert explains.
Only 40 light-years from Earth, the exoplanet system known as TRAPPIST-1 is now known to be orbited by at least seven planets, three of which orbit in this star's habitable zone. That's the zone within which liquid water should, in theory, be able to exist. However, these planets are bathed in high-energy ultraviolet radiation. What would life be like near Trappist-1? Lisa Kaltenegger – director of the Carl Sagan Institute at Cornell University – is an expert on exoplanets and their potential to support life beyond Earth. She happens to have two papers completed that speak to this subject – one under review at Monthly Notices of the Royal Society, and one forthcoming in The Astrophysical Journal. Both discuss life under a very high ultraviolet radiation flux environment.
Kaltenegger said in a statement on February 22, 2017:
Finding multiple planets in the habitable zone of their host star is a great discovery because it means there can be even more potentially habitable planets per star than we thought. And finding more rocky planets in the habitable zone per star definitely increases our odds of finding life.

Trappist-1 now holds the record for the most rocky planets in the habitable zone – our solar system only has two – Earth and Mars. Life is a definite possibility on these worlds, but it might look different because there's likely to be very high ultraviolet radiation flux on the surface of these planets.

How good or bad would such a UV environment be for life? Our paper, currently under review at Monthly Notices of the Royal Society, discusses just this scenario for the Trappist-1 system, examining the consequences of different atmospheres for life in a UV environment.

We find that if the star is active, as indicated by the X-ray flux, then planets need an ozone layer to shield their surface from the harsh UV that would sterilize the surface. If the planets around Trappist-1 do not have an ozone layer (like a young Earth), life would need to shelter underground or in an ocean to survive and/or develop strategies to shield itself from the UV, such as biofluorescence.

Atmospheric biosignatures such as methane, indicating adaptations by life, could be detected by the James Webb Space Telescope, launching in 2018, or the European Extremely Large Telescope, coming online in 2022.
Leave a Reply